Beth rated it 1 of 5 stars
Recommends it for: nobody
I read this book because it's located where I work at the Rochester, MN, Public Library. It was horrible. If I could give it 0 stars I would.
Teri rated it 3 of 5 stars
I really wanted to like this book and at first I was quite disappointed as it seemed poorly written. However, read as a parody, it is fairly amusing in parts. The accompanying essay makes clear that this is more in the line of performance art. The author set out to write a few chapters to send to publishers in order to get rejection notices. She succeeded. She then got an offer to publish the book as part of a design and indie publishing project at Cooper Union. Seen in this light, this slight novel/parody becomes more interesting (although, the editing of misspellings and awkward phrasings could use some work). The font has a somewhat blurry and homemade look; perhaps it was intentional, but it is distracting. The basic story is that New York librarian Audrey, tiring of the sex & dating scene in the big city, takes a job in Rochester, Minn. for a change of pace. She is unsure what to do about her hunky neighbor when she discovers he is the ex of her new boss. Audrey is definitely sexy, in deeds and in fantasies; file this under Library Porn if you have such a category. Of course, it could be that the whole 'art project' aspect is fake… but who cares…
Cherie rated it 3 of 5 stars
Shelves: fiction, librarianship
B Entertaining but sometimes cheesy and romanticizing of librarianship. A romance novel – though at some times, more like straight up erotica. It def is loaded with the cheesy writing of a romance novel
Amber Polo rated it 4 of 5 stars
Shelves: library-research
I think the whole thing was a fabulous experiment in publishing. And a slice of library life.
Kira rated it 2 of 5 stars
Sadly, the book design was better than the story.
Sexy Librarian Rejection Letters
2006-7
letterhead, mylar sheeting
8.5 x 11 in.
Sexy Librarian
2008
paperback, unlimited edition, published by Ellen Lupton/Slush Editions
6 x 9 in. 174 pages.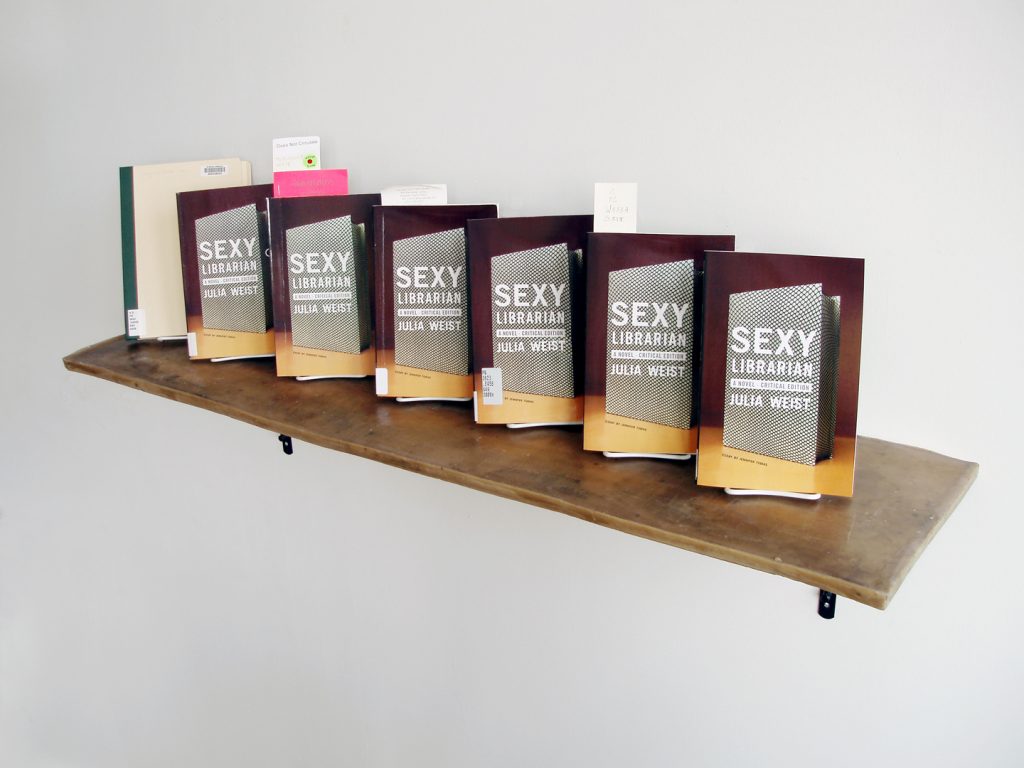 All the library-owned copies of Sexy Librarian I was able to borrow
2009
library books written by the artist, handmade wood from paper (shelf), steel brackets
Courtesy of (from left to right): MoMA Library, Rochester Public Library, Pratt Institute Library, New York Public Library, Lafayette
College Library (Courtesy of the Brooklyn Public Library through Interlibrary Loan), Cooper Union Library, Brooklyn Museum Library
76 x 11 in.
Discarded library books I collected; Library books I wrote; Library books I discarded; Discarded library books I wrote; Discarded library books I collected, plus diplomas
2006-2013
Steel, wood, book props, book ends; discarded U.S. public library books collected in 2006; copies of a romance novel, Sexy Librarian, written by the artist and borrowed from MoMA Library, Harvard University Library and Amherst College Library via Brooklyn Public Library interlibrary loan; books discarded by the artist from the collection of the New York Society Library in 2011; discarded copies of Sexy Librarian from New York Public Library, Greene County Public Library, Cuyahoga County Public Library, and San Mateo County Library (2 copies); discarded U.S. public library books collected in 2011; the artist's B.F.A. and M.I.L.S. diplomas
98 x 10 in.